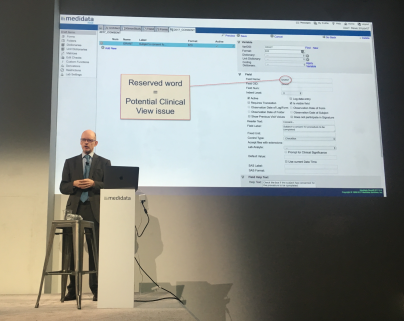 Last week TrialGrid attended the Medidata NEXT Conference in New York. This was the largest Medidata conference of the year and that was reflected in the record number of attendees. It was great to see so many familiar faces and a wonderful opportunity to meet new people.
My presentation on Building Better Rave Studies with TrialGrid Diagnostics was well attended and clearly resonated with participants. There were a lot of questions in the room and in the hallways following the session. Behind the scenes we noticed a big spike in visits to our website, an indication that people at the conference were talking about us with their colleagues who could not make the trip.
We had expected interest from organizations which are just starting out with Rave since we know that relatively inexperienced Rave Study builders value the quality guidance that TrialGrid Diagnostics can provide. But we were also approached by many Clinical Programmers and Managers with a decade of experience with Rave who wanted to share their experiences and suggestions for new Diagnostics.
Overall, it was a real pleasure to take part in the NEXT Conference. Medidata has built a thriving community around their Platform and we at TrialGrid are proud to be a part of it. If you missed the conference, there's a chance to watch the Keynote at https://www.mdsol.com/en/news-events/events/111017-next-nyc-keynote-video-form